Card modelling - basic techniques
Page last updated 3 March 2009
Page produced in conjunction with the Welsh Patentless Cardboard Chimney Company The featured kit is the first in a range of card locomotive kits in 4mm covering Welsh Narrow Gauge prototype's. (WPCCC web site URL = http://cardmodellocos.wordpress.com/). The RUSSELL kit is for sale at the WHHR [Welsh Highland Heritage Rly] shop. All proceeds go towards the re-building of RUSSELL. See their shop at http://www.whr.co.uk/index.php?pid=5 'Phone orders - ring 01 766 513402.
Card modelling offers you the opportunity to build small models with simple tools without breaking the bank if you buy several models and go back for another try as your skills improve. Here are some tips from card kit modeller Keith Hunt.
General tips
Don't use scalpel blades - they are too flexible.
Don't use straight edges - they introduce errors.
Don't use too much glue - except where you want a bit of slippage.
Overlay first to give thicknesses and then cut through multiple layers when dryish.
Use cocktail sticks and self closing tweezers to handle parts.
DON'T SNEEZE - keep bits in a deep container.
Cutting out (1) - Direct knife cutting - no straight edge. Back to top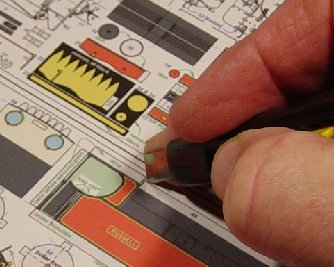 Note position of my second finger behind the blade [at the start of the cut only].Make sure tip of blade is engaged in surface of cutting mat and cut through card in one go. A little practice following squiggly lines on on scrap will soon prove that it is not necessary to use a straight edge [which can slip and mask and introduce errors]. This direct approach is the most accurate [and I haven't cut myself - yet].
Cutting out (2) Back to top
Snipping around wheels and other curves
Keeping the blade sharp (Snippable blades) Back to top
Snap off blades with a pair of pliers to preserve tip profiles . Working with the blade tip into the cutting mat surface seems to keep the tips sharp [bit like a barbers leather strop ?]. The mat surface seems to go on forever.
Making a crease (1) - Bending a fold Back to top
Direct upwards knife creasing. though approx. 60 degrees. Fold back by hand.
Making a crease (2) - on larger pieces Back to top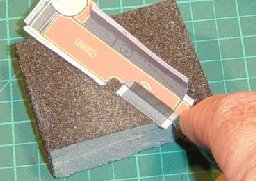 Knife creasing into a foam centred car body sanding block.
Note how I've hung the bit I don't want to crease over the edge of the block.
Making a crease (3) - reverse creases Back to top
Hard reverse creasing with my finger nail.
Rolling a boiler Back to top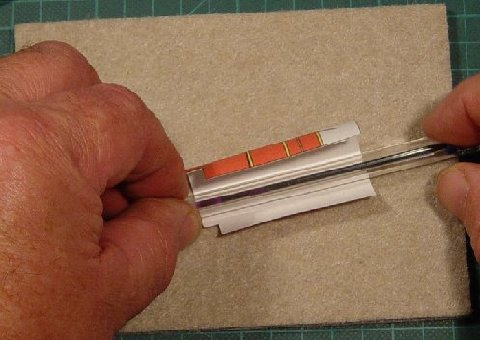 Rolling RUSSELL's boiler into a compressible material using an 8mm dia. pen barrel.The compressible surface is felt. I had to follow up with a smaller dia. to close the boiler. I usually use the palm of my hands or finger tips for smaller items.
The correct technique ensures the barrel does not crease.
Clamping the boiler barrel after gluing with self closing tweezers.
Make sure all is aligned properly as the PVA grips faster than super-glue when pressurised like this.
Adding the boiler former for stiffening Back to top
Pierce holes & handle/position parts with a cocktail stick.
If any reader has any doubt about the quality that can be achieved with card as a modelling medium the buildings on the Pendon museum layout will put those doubts fully to rest.