Card modelling - basic tools
Page last updated 3 March 2009
Page produced in conjunction with the Welsh Patentless Cardboard Chimney Company The featured kit is the first in a range of card locomotive kits in 4mm covering Welsh Narrow Gauge prototype's. (WPCCC web site URL = http://cardmodellocos.wordpress.com/). RUSSELL is for sale at the WHHR [Welsh Highland Heritage Rly] shop.All proceeds go towards the re-building of RUSSELL. See their shop at http://www.whr.co.uk/index.php?pid=5 'Phone orders - ring 01 766 513402.
Card modelling offers you the opportunity to build small models with simple tools without breaking the bank if you buy several models and go back for another try as your skills improve. Here are some tips on the tools to use by experienced card kit modeller Keith Hunt:-
"My approach is to take each part in the most direct manner possible i.e. cutting on a cutting mat without a straight edge & folding without scoring. A little practice around drawn lines on scrap will soon prove that you can do these things. All unnecessary aids and indirect methods tend to increase the risk of inaccuracy."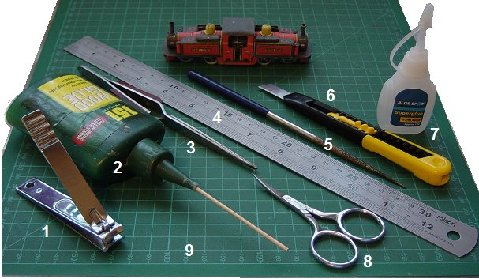 Your most important tool is probably the cutting mat, but this will prove too hard for the very accurate reverse creasing technique I strongly recommend.
1. Go and buy yourself a new pair of nail snipers if necessary - and whilst you are out there buy the right type of knife (6) and some cocktail sticks.
3. Self closing tweezers.
5. Round diamond grit file [not essential].
7. Water thin super-glue [the best I have found is Blue-Spot].
8. Fine curved dressmakers scissors.
The rest should be obvious.