Card modelling - techniques for funnels and domes
Page last updated 15 November 2007
Page produced in conjunction with the Welsh Patentless Cardboard Chimney Company Featured kits are from the soon to be launched range of card locomotive kits in 4mm covering Welsh Narrow Gauge prototype's. (WPCCC web site URL = http://cardmodellocos.wordpress.com/)
Card modelling offers you the opportunity to build small models with simple tools without breaking the bank if you buy several models and go back for another try as your skills improve. Here are some further tips from card kit modeller Keith Hunt specifically for making the funnel and dome of a steam locomotive although the techniques are portable.
Making a funnel or chimney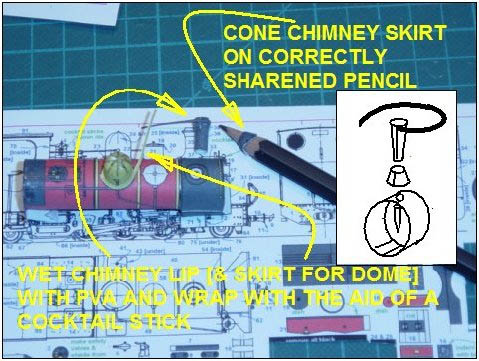 Making a dome (Recommended four step process)
The wet cotton bud technique in step 3 works really well and more PVA can be introduced to produce a dome that is remarkable strong when dry. The adequate supply of PVA thus introduced lubricates and ensure that the inside of the dome remains wetted and malleable The inner plate stops the PVA oozing out onto your pinky - but can slip out of place.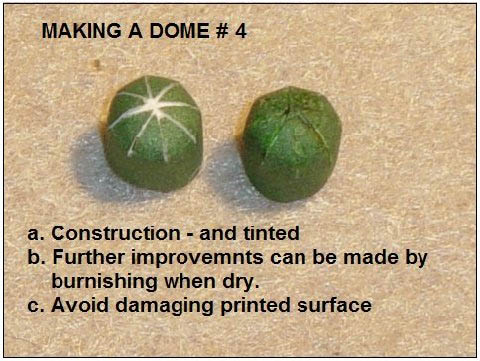 An alternative method
Dome can be formed around the rounded end of a paint brush handle. Here I had cut the end off the brush and sanded it to a well shaped dome first
.
If any reader has any doubt about the quality that can be achieved with card as a modelling medium the buildings on the Pendon museum layout will put those doubts fully to rest.